MOBILE VPN SOLUTION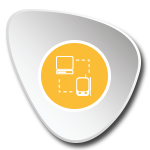 The Key to a Successful Mobile Deployment!!
The foundation of a successful mobile deployment is Mobile VPN (virtual private network) software that provides mobile workers with secure, reliable, remote access to network resources and information from virtually anywhere. Only a Mobile VPN is designed to deal with the unique challenges associated with mobile computing such as wireless security, performance and roaming.

VPN enables mobile workers to use various wireless and wired connections to securely access the organization's intranet. It is applicable for:
Network-based secure mobility: All IP devices connected to the mobilized network have transparent, secure mobility.
Host-based secure mobility: A single device, such as a laptop or a tablet PC, is secured and mobile.
What do our clients think of us
Thanks to Networklife Group, our computer frustrations are new thing of the past. We always found the support team to be friendly, helpful and very quickly respond. I love that we can pick up the phone and speak directly to an expert whenever we need to help or advice…
Miran,SP Limited.